---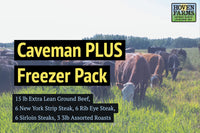 Sale
The Caveman Plus Freezer Pack is 30 lb of beef
15 lb of Extra Lean Ground Beef
3 lb NY Strip Steaks (approximately 4-5 steaks)
3 lb Rib Eye Steaks (approximately 4-5 steaks)
3 lb Sirloin Steaks (approximately 4-5 steaks)
3- 3lb Assorted Roasts

Our farm has been in the family since 1910. Our family has been the stewards of our land and our grass for over 100 years. Growing healthy food for families is our passion!
We want to share our passion with you.
Grass-finished beef has:
More healthy omega-3 fatty acids

More conjugated linoleic acid, a type of fat that's thought to reduce heart disease and cancer risks

More antioxidant vitamins, such as vitamin E
We believe that grass-finished beef is amazing food and an extraordinary tool that is the only solution for solving climate change and desertification.  We have had scientists and filmmakers on our land looking, testing and exploring what we do.
We love healthy soils, healthy grass and grass finished beef.